Forms of Turmeric:
RK Turmeric deals in the following varieties & forms of Turmeric:
1. Turmeric Powder, 2. Turmeric Fingers, 3. Nutra Turmeric
1.Turmeric Powder: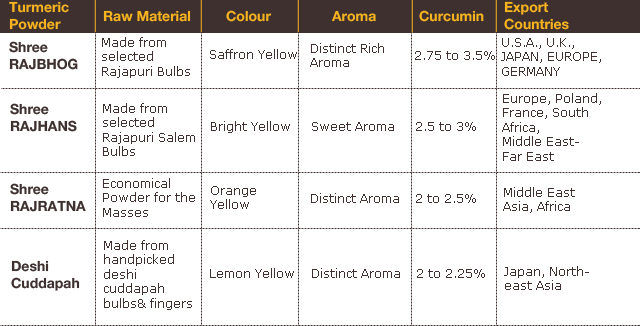 Turmeric Extraction Grade-
Turmeric Kocha- 8 to 12% Curcumin- Sangli
Turmeric Pannankali- 7 to 10% Curcumin- Salem & Erode
Mysore Variety- 4 to 6% Curcumin
2.Turmeric Fingers: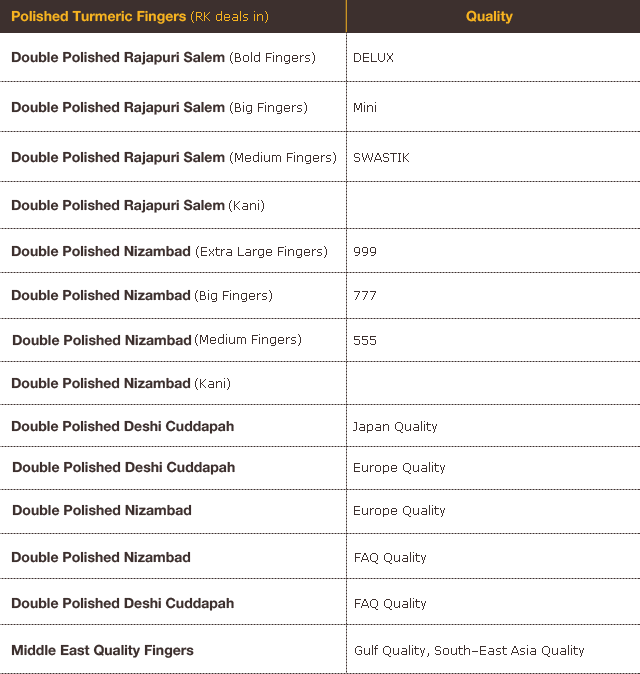 3. Nutra Turmeric:
It is carefully prepared from individually handpicked turmeric roots that are grown in the finest regions of India- Sangli. By biodynamic & organic farming practices, the turmeric roots are carefully harvested, grown from the best quality Rajapuri variety of seeds.
After harvesting, the turmeric roots are carefully processed in a fully atomatic PLC controlled , HVAC and
HACCP certified
plant where processes like boiling, drying, polishing, etc. are undertaken in S.S. 316 plants under trained supervision. The polished turmeric is then graded and sorted for any impurities under controlled attmospheric conditions to be sent further for grinding.
By the technology of low –temperature grinding the final NUTRA TURMERIC is obtained which is then passed through metal detectors until finally hygienically packed & stored.